The Story of Doberge Cake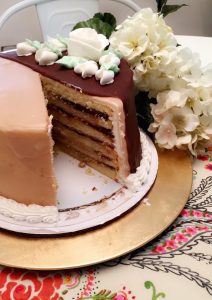 Summer in New Orleans is hot. A simple, but nonetheless true statement. With temperatures over 90˚ and humidity that makes breathing feel like swimming, it's hard to imagine doing anything but lounging beneath a blasting air conditioning vent and throwing back icy daiquiris. New Orleans culture, however, bows to no weather condition; having survived hurricanes, heat waves, and erratic downpour, life always goes on in the Big Easy. It's no wonder that New Orleans' most famous cake is one that, too, was created and adapted to withstand the outside world. What cake do we speak of? Why the doberge cake, of course.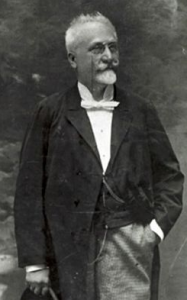 Its history starts, not in New Orleans, nor even France as its name suggests, but in Budapest, in the confectioner's shop of a man named Jozsef C. Dobos. For the doberge cake once began as Dobos' most famous creation: the dobos torte or dobostorta. Jozsef Dobos was seeking a way to protect his delicate desserts from the elements in a time when refrigeration was all but nonexistent. In the late 19th century, Dobos was battling pastries that dried out and cream fillings that curdled. As a man of ambition, he hoped to create a pastry that could be shipped across Europe without sacrificing quality or spoiling. And in 1884, Dobos found the perfect solution: a five layered cake, iced with buttercream, and soaked in a caramel glaze. He revealed his creation to the world in 1885 at the National General Exhibition of Budapest, no small feat considering those in attendance included the Empress of Austro-Hungary, and King Franz Josef I. But the cake went over spectacularly; its innovative structure succeeded in withstanding the tests of time and temperature.
Dobos created his torte with layers of individually baked vanilla sponge cake, meaning that each layer was able to form an outer crust that didn't expose the soft cake inside, thus helping to prevent them from drying out. He then sandwiched thick chocolate buttercream between the layers of cake, a filling that was anomalous in its time. Most cakes and pastries in the 1800's were iced or filled with whipped creams or creams cooked over heat, like custards. Buttercream was a lavish filling used only in France back then, an addition inspired by Dobos' recent travel to Paris. The use of buttercream both elevated Dobos' torte as well as increased its shelf-life. The final piece of Dobos' creation was a caramel glaze that soaked the top layer of the cake. This glaze not only moistened the cake itself, but acted almost to create a protective coating around the cake, allowing it to travel well preserved.
With his inventive baking, Dobos was able to make one of the first cakes to be shipped around the world. He delivered his cakes for over two decades as it gained popularity across Europe and farther. After his retirement in 1906, Jozsef Dobos finally released the well-secreted recipe for his dobos torte to the Budapest Confectioner's and Gingerbread Maker's Chamber of Industry with the caveat that it must be made available to all who sought it.
Overtime the dobos torte experienced its own changes, the original five layers became seven, the seven then became eleven, and the eleven even became twelve and tiered as recently as on the Great British Bake Off. But it was upon meeting New Orleans' very own Beulah Ledner that the dobos torte turned down a transformative path. Ledner was drawn to the richness of the dobos torte, but realized all too quickly that such a dense dessert had little place in the desperate heat of the Crescent City's climate. Just as Dobos before her had created a recipe to counteract the elements of the world, Ledner adapted one to better suit an endless summer.
Where her predecessor had used the thicker buttercream, Ledner exchanged it for a lighter chocolate custard that would soften the cake itself. Vanilla sponge became yellow cake, and the eleven layers were traded for a simpler eight, making the cake a more manageable height. In keeping with Dobos' original creation, however, she incorporated the chocolate buttercream by using it to ice the outside of the cake. She then sought to elevate the confection by covering it in a layer of fondant.
But the ingredients weren't the only thing Ledner changed about the Hungarian dessert; in a city evolved from a French heritage, Ledner feared that her clients wouldn't respond well to an Eastern European delicacy. It was then that she decided to re-name the cake, trading dobostorta for doberge. She hoped that a more French sounding name would draw in patrons who already had an affinity for French pastries.
Selling it out of her uptown home on Lowerline Street, it didn't take long for her doberge to flourish. Ledner and her cake became a New Orleans staple, earning her the moniker 'The Doberge Queen of New Orleans' and making her cake the go-to New Orleans birthday treat. Her small home bakery was loved by the local community, a favorite spot frequented by Newcomb students and Tulane faculty alike.
So where is the doberge cake now, you may wonder. In 1946 Ledner sold both her bakery and her famed doberge recipe to a man named Joe Gambino. As Gambino took over the bakery, it was of the utmost importance to him that he remained loyal to Ledner's creation. Even to this day it is Gambino's alone that bakes by hand Ledner's original recipe exactly. This includes making the custard filling from scratch for every cake, and most importantly, baking each layer separately where some bakeries have made a practice of slicing one cake into individual layers. Gambino's, too, honors the doberge cake's Eastern European ancestor; sharing Dobos' original ambition, Gambino's still seeks to make a special cake accessible around the country, shipping New Orleans traditions across the nation.
Having worked our way through the doberge's history, watched it transform time and time again to suit both climate and the effects of time, perhaps it can't help but to be concluded that the most New Orleans thing to do on a hot summer day is to settle down not only with our cocktail, but with a slice of cake by its side.