The Sisters of Mardi Gras
Mardi Gras is a time of color and charisma, where people of every type take to the New Orleans streets to celebrate. It's an incredible cultural moment made better by the parades of wit and whimsy that stud the weeks prior to Fat Tuesday. One such parade is Muses, a krewe with a short, but nonetheless fabulous history.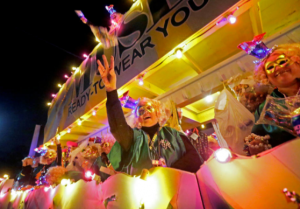 Parade Rundown
The Krewe of Muses is New Orleans' first all-female parading krewe. The Muses parade takes place the Thursday before Mardi Gras and is an uptown, night rolling parade. Muses begins on Jefferson and Magazine, rolling down Magazine and transferring to St. Charles by way of Napoleon. From there it rolls into the French Quarter, ending by parading down Canal street to Tchoupitoulas.
Muses is known for their humorous and sarcastic parade themes that play on pop culture references and local in-jokes. Their floats are decorated with biting satire and an intellectual wit that eclipses that of almost every other Mardi Gras parade. Some of their past themes have included New Orleans Superheroes (like SuperMuse), Makin' Groceries, Disco (in which they rewrote humorous lyrics to classic disco songs), a Muses Shopping Mall, and in 2010 they even made a Romantic Guide to Love. Their infamous parade themes are known to be kept under tight lock and key yearlong, only to be revealed as they roll on Thursday night.
Inspiration Inception
Muses was founded in 2000 by a group of women who wanted to change the face of Mardi Gras parades. Their first parade rolled in 2001 and was an instant hit. With currently over 1500 members, Muses is the largest all-female rolling krewe in New Orleans (followed closely by Nyx, another incredible all-women krewe). But where did the idea for this parade come from? Why, inspiration itself.
The Muses are a major facet of Greek mythology. Born of Zeus and Mnemosyne — the goddess of memory — the Muses are the foundation of creativity. Nine in total, each muse inspires a different artistry and you may recognize their names as they are streets that run throughout the city. Terpsichore is the muse of dance, Clio, the muse of history. Calliope, Euterpe, Polyhymnia, and Erato are the muses of poetry, epic, lyrical, sacred, and love poetry respectively. Thalia is the muse of comedy while her counterpart, Melpomene, is the muse of tragedy. And the last of the nine daughters is Urania, the muse of astronomy. The Muses were thought to provide inspiration for the endeavors of humans on earth, influencing science, art, and intellect, and carving the path for all pursuits of knowledge. They were born from the sacred springs of Helicon and thus referred to as water nymphs. They not only inspired art, but created it too. The Muses were the greatest entertainers for the gods, performing nightly on Mount Olympus.
It is from this legend that the Krewe of Muses drew their inspiration, seeking to empower women who empower others. They are a highly philanthropic krewe that spends the year contributing to the community of New Orleans. They are one of the only Mardi Gras parades that do not host a king or queen because they believe that all of their riders should be held equal as integral and valued members of the krewe. Each woman is a queen in the eyes of Muses.
To celebrate their championing of inspiration, the final float of the Muses parade every year is the float of the Sirens. This float commemorates the Muses' battle of the Sirens in Greek mythology. The Sirens were creatures of the water whose songs would lure sailors to their deaths. They challenged the nine Muses to a musical contest. With the gods as their audience, the Muses sang against the Sirens, letting their songs of loyalty and truth outweigh Sirens' songs of deceit. Upon winning, the Muses plucked the feathers from the Sirens' bodies and made crowns of them to celebrate their triumph.
A Shoe by Any Other Name
Of course it would be remiss to tell the tale of Muses without speaking of the shoes coveted across New Orleans. The Krewe of Muses' signature throw is a shoe. An easy theme to spot, considering the seventeen-foot, LED-lighted high heel that always marks the start of the parade. Every year Muses chooses a type of shoe to highlight (examples being pumps, mules, boots, and stilettos) and crafts their throws around this shoe. And while it is likely you will receive beads with tiny shoes embedded in them, the chances of you receiving a signature bedazzled shoe are much smaller.
In the early years of Muses, founder Staci Rosenberg was inspired by the Krewe of Zulu's hand-decorated coconut. A simple idea that became a New Orleans phenomenon, Staci bought second-hand shoes from Goodwill and decided to deck them out in glitter, ribbon, and feathers. Now almost every member of Muses spends the year decorating as many shoes as she is able, to throw them to only the most deserving of parade goers. To catch one of these incredible shoes is a feat of Mardi Gras magic.
With a history of empowerment, and yes, you guessed it, inspiration, it's no wonder that the Krewe of Muses was impactful enough to transform the classic Mardi Gras phrase "Throw me somethin' mister" into "Throw me somethin' SISTA!"