The Voodoo Queen: Marie Laveau
With Halloween around the corner, there are few better places in the world to celebrate than the hallowed and haunted streets of New Orleans. Home to ghosts, witches, and vampires alike, New Orleans is practically the capital of spooky. And at the heart of all our terrifying tales is the "Voodoo Queen of New Orleans" herself, the infamous Marie Laveau, voodoo priestess extraordinaire.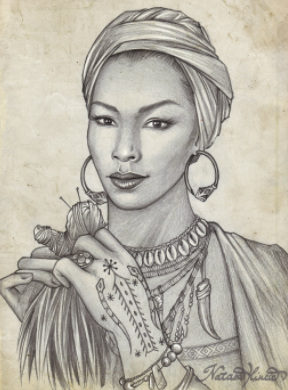 The Bare Truth
The famed evening ghost tours of the New Orleans French Quarter pitch a bit of a sensationalist view of the voodoo priestess, but the truth of Marie Laveau's life is far more down to earth. Daughter of freed slave Marguerite Henry and local mulatto businessman Charles Laveaux, Marie was born on September 10, 1801. Not much is known about her youth but in 1819, at the young age of 18 years old, Marie married Hatian immigrant Jacques Paris and together the two bore two daughters. Unfortunately this family life did not last long for Marie; both of her daughters died in infancy and Jacques mysteriously went missing in 1924. Many believed him to have died, including Marie herself, but some speculate that he, in fact, deserted Marie after the deaths of their children.
Following Jacques disappearance, Marie became self-sufficient working as a hairdresser. She served much of the New Orleanian elite as Widow Paris and made quite the living for herself by doing the hair of upper-class, white socialites.
Marie didn't remain single for long, though. In 1826 she entered into a common-law marriage with a French noble descendant, Louis Christophe Dominic Duminy de Glapion. While she never took his name, the pair had 7 known children together. Only two of these children are known to have survived into adulthood: daughters Heloise Euchariste and Marie Philomene.
For the majority of her life, Marie Laveau lived in the Vieux Carre, what is now known as the French Quarter, on St. Ann Street between Rampart and Burgundy. It is from this house that she dressed hair and served patrons seeking her voodoo skills. She ran consultations out of her living room, offering divinations, healing rituals, and small scale charm work.
Contrary to popular belief, Marie was actually a devout Roman Catholic. She embraced her African cultural traditions and spirituality through voodoo, while simultaneously being a regular attendee of Catholic masses at St. Louis cathedral in Jackson Square. Through both voodoo and the Catholic religion, Marie spent her life working at the aid of others, nursing the sick, comforting the emotional, and even ministering to felons on death row.
Just shy of eighty years old, Marie passed away on June 15, 1881. Her funeral took place at the St. Louis cathedral and she was interred in the Glapion crypt in St. Louis Cemetery (Number 1). While she has now become an exaggerated New Orleans legend, many believe that Marie should be canonized as a saint for her extensive and life-long humanitarian work.
Do You Do Voodoo?
Marie Laveau learned voodoo beneath voodoo doctor John Bayou. She studied for five years, officially becoming a voodoo priestess in 1830. Her work blended her Catholic leanings with her African roots; she incorporated holy water and Christian iconography into her spell work. By doing this, she made her practices more approachable for upper-class patrons and the religious community at large.
Much of her work included fortune telling and gris-gris (or charms). These charms varied from love spells all the way to curses for enemies. Marie also lead spiritual celebrations around the city, including monthly voodoo meetings in Congo Square, as well as the pre-Christian summer solstice festival called St. John's Eve where she implored her followers to commune with spirits through dance and music.
Dis-Spelling The Myths
It wasn't until the 20th century that Marie Laveau gained the infamous accolades we often remember her for today. Fear of voodoo and New Orleans' tendency to embellish have made Marie Laveau into a snake charming voodoo witch with the powers of a god. It's said her voodoo magic even caused the death of a Louisiana governor.
In reality, much of her "powers" came from the vast network she had built as a hairdresser. From her wealthy clients who saw her as a confidante, to their servants who were happy to gossip for money, Marie was constantly intaking mass amounts of intimate information. Knowing the illicit chatter around town allowed her to develop a very convincing divination act, and having a one-up on the private lives of New Orleans' upper-classes made it easy for Marie to instill reverence in her followers and respect amongst the community.
Even today her tomb ranks among the most visited in the United States and she remains a widely admired historical figure. Her likeness has been adapted into countless New Orleans stories and films, not the least of which was American Horror Story's 2014 season entitled Coven. Fans flock to St. Louis #1 to leave trinkets for her spirit. Perhaps the most lasting tale of all is that if you mark her tomb with a triple "X" she will grant you your greatest wishes from beyond the grave.